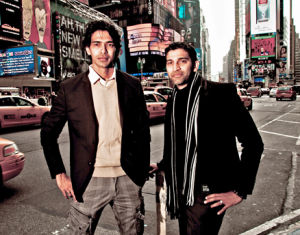 Offbeat 'Love, Wrinkle-Free' Arrives at Cinequest
India West – By Lisa Tsering, Staff Reporter 
An offbeat story about love reaching beyond looks is currently onscreen at Cinequest, an international film festival in San Jose, Calif.
"Love, Wrinkle-Free," written and directed by Sandeep Mohan, explores the ever-changing relationship between Savio, a Goa businessman, and his suddenly pregnant 46-year-old wife. The couple's adopted teenage daughter, and a sexy foreign photographer who crosses paths with Savio, add layers of complexity to the tale, billed as "an anti-aging comedy."
SubmitThe film had its Northern California premiere Mar. 4, and will screen again Mar. 7 and 9 at the Camera 12 Cinemas in San Jose.
Mohan, who has worked as an assistant to Sanjay Leela Bhansali on "Hum Dil De Chuke Sanam" and has numerous Indian music videos, TV shows and short films to his credit, says he wanted to bring the independent-minded "Love, Wrinkle Free" to audiences outside of India.
"Bollywood is mostly formulaic in its story-telling and treatment, and risk taking is mostly not encouraged," Mohan told India-West in an e-mail.
"As India and Indians are growing economically, they are getting more and more exposed to the best of the world, and this applies to their interest in films too. Indie movies like 'Love, Wrinkle-Free' are not conventionally Bollywood in that sense, but universal and sensible in its treatment and theme."
He added that audiences are getting it, too. "I am excited by the wonderful audience reaction from the various film fests that we are attending. We have been getting reviews like 'Refreshing,' 'Mint-fresh' and 'Universally appealing.'"
Giju John, an Indian American senior engineer at Intel and a busy working musician and performer, collaborated with Mohan on the film's soundtrack and decided to become a producer for the film as well.
"My initial involvement with 'Love, Wrinkle-free' was as a musician. Sandeep wanted me to produce two songs in the Latin-Indian genre for the movie and also do a cameo," John explained in an e-mail to India-West.
"It was around that time that my friend and business partner Kamal Shah and I had decided to start a film production company — Tiranga Productions — with the mission of making Indian independent movies focusing on substance and content and within reasonable budget, so as to maintain the commercial viability. So when I got a chance to read the script of 'Love, Wrinkle-Free,' I was fully confident that this would be the perfect flagship for Tiranga. Kamal also agreed and that's how Tiranga came on board."
The music in "Love, Wrinkle-Free" is almost a character in and of itself, said John — who also sings and plays on the soundtrack.
" 'Love, Wrinkle-Free' takes place in Goa, and when you think Goa, beautiful music and the spirit of optimism comes to mind. I was very clear about from the onset that we needed to get various musicians to compose the songs that play in the background in the movie," said Mohan.
"So we have songs by singers like Remo Fernandes, Giju John, Shibani Kashyap, Belinda Fernandes and Saikat-Shankar; a Tibetan Song by JJI Exile Brothers; and some Portuguese songs, and all these are smoothly linked and made to feel as a whole by the wonderful Vivek Philip, who has done the background score for the movie.
"I am very happy about the way the music has turned out and brings out the soul of the story. The lighthearted tone is a very difficult tone to get, but I am delighted with the way it has turned out. I believe that the music is truly international in our movie."
The film's ensemble cast includes Ash Chandler, Shernaz Patel, Seema Rahmani, Sohrab Ardeshir and Ashwin Mushran.
Mohan said that in addition to bringing the film to Cinequest, "We have taken part in the South Asian Film Fest in New York, Mumbai Film Festival, IIFF at Tampa Bay and also attended the Cannes Film Market. We will be taking part in a few more fests before going towards a theatrical release in India by May or June this year, as talks with distributors are on and at a crucial stage."
For information, visit www.lovewrinklefree.com; for tickets to the screening Mar. 9, visit www.cinequest.org.